Education Ecology
Why Teaching, Testing, Textbooks & Technology are Not Enough
© Bruce Lindgren 2017 (Updated 20170424)
Chapter One: Introduction
New World Learning
Chapter Two: Biological Foundations
Learning Is Life
Chapter Three: Domains of an Education Ecosystem
Physical Domain
Intellectual Domain
Emotional Domain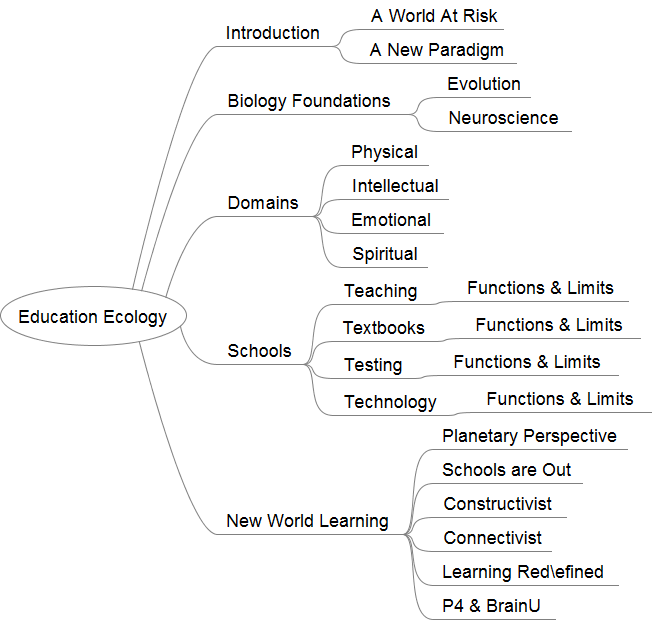 Spiritual Domain
Social Systems Interface
Chapter Four: The Case Against Schools
Why Schools?
The Monastery
Schools Dominate Education
Schoolism & Schoolists
School Improvements
Totalitarian Rule of School
The Education Industry
Charter Schools
Higher Education
Teaching is Not Enough
Testing is Not Enough
Textbooks are Not Enough
Technology is Not Enough
Chapter Five: New World Learning
Our World & A Planetary Imperative--Future of Reform
Schools Are Out -
Constructive and Connected Education
Designing for Systems Thinking
The Open Society & Karl Popper
Breaking the Model for Education
Learning Is Not Enough
P4 & BrainU -- Neuroscience Foundations
Notes & Bibliography
APPENDIX
Biological Foundations
What is Life? Life Is Learning ...
Neurobiology for Learning
Evolution -- The Biology of Change
Ecology -- All About Relationships
Systems & Systems Thinking about Education
Sustain & Thrive -- We are a World At Risk!
Natural Learning --